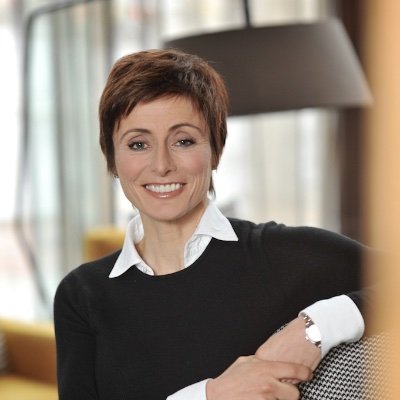 Back in 2017, June Burgess made the TEDxStormont audience clench their buttocks and let go. Inspired by the need to relax while horse jumping, June told us to smile with all four cheeks to live a fulfilled life. It's 2021 and the message is still a motto for June and her business.
Originally a Chartered Landscape Architect, June Burgess is probably best known for her 2008 development of a city centre car park into the 5* Fitzwilliam Hotel Belfast, and then successfully establishing the business despite coinciding with the worldwide recession. June also has 40 years experience of working with and learning from horses and competing at international level for over 20 years.  
She has now brought all her experiences together in her new venture – Horses for People, experiential workshops focussed on leadership, team building and emotional intelligence. What makes them innovative and effective is that they involve interaction with horses. 
We caught up with June to find out why we should all 'be more horse'…
How was your TEDx Stormont experience?
It was great because it's something I've always wanted to do. Getting on stage was lovely but the build up to it was quite nerve wracking. And then when it's time to go out on stage, it's just wonderful. I felt very honoured and would love to do it again.
What has happened for you since the talk?
Business has taken off largely along the lines of letting go and smiling with all four cheeks. I developed my equine assisted coaching business, Horses for People, and so I'm teaching others how to put into practice what I talked about! 
There are two completely separate strands to the business. One of them focuses on anyone experiencing post traumatic stress disorder, depression or corporate burnout. Then there is our Corporate training which is focused on highlighting leadership and communication skills so that they can be improved and the learning applied directly back to the workplace and other parts of life. Both approaches develop awareness of your own and others' emotions and how your behaviour influences the people that you're working with.

What can we learn about leadership from working and interacting with horses?
You can learn pretty much everything you ever need to know about leadership from interacting with horses. Many leadership courses are classroom-based where you get told what you should do, or you do personality reports which are meant to tell you who you are. And that means nothing really, because at the end of the day, you've got to have social intelligence and it's very hard to gauge social intelligence until you actually put it into practice. Not until you're in a position where you're slightly vulnerable do you find out how you react when push comes to shove, or how you work with people in difficult situations. 
So when you work with the horses I set up scenarios that put all of that to the test. The way you interact with the horse is exactly the same way you would interact with people. Once people get over the initial nerves and engage, then the horse really mirrors their actions. And so you get a chance to see how other people perceive you. And it's a lot more palatable when you're getting that feedback from a horse! People will open up and accept things that they're being told, or they don't have to be told as they can see it demonstrated in front of them.
In the leadership exercises, there's no right or wrong way to go about the tasks, but there are ways that get better results. For example, when people start to hold on really tightly to the horse, they then restrict the horse and the horse become more and more reluctant to the point where it starts to resist. We do that with people in the workplace as well, where we try to micro-manage people instead of encouraging them to collaborate, be innovative and creative and have an open atmosphere in an office. The horses listen more when they're given freedom but the person must always keep the connection. It's all about keeping the connection but giving them enough space to complete the task their way, within the remit you give them.
We also watch how the horses interact with each other because they've got a great model in the herd. It's a very collaborative structure that's underpinned by harmony and dispute resolution. Businesses are starting to move towards a more collaborative approach to leadership and an understanding of the importance of that. 
You mentioned in your talk and connecting with the power that carries you. What's yours?
I'd certainly say my intuition and connection to the horses. They have affected me greatly, both from a competitive angle, and how much they've taught me about life. They've given me all of the thrills and spills that I have when competing, and hopefully, there'll be more thrills than spills moving forward. But they've given me the ultimate switch off. Also, the feeling that my husband's with me all the time. And he loved horses.
You compare horse jumping to bridging obstacles in life. What's the biggest obstacle you've overcome and how has smiling with four cheeks helped you?
It would have to be building the Fitzwilliam Hotel. It was a great idea in 2006 when we started building it, but not in 2008 when it was complete and the bottom had fallen out of the market. And I kept saying, we'll make this work, we will make it work. And pretty much everybody said it was impossible. So everyday was a fight and that carried on for a couple of years. That was probably the toughest time where there was a battle every single day and I was in an environment that I had no experience in. 
And throughout all of that I became very good at being able to switch off the stress at the end of the day. You can never bring your work home with horses, they just will not interact with you at all if your mind is somewhere else. And ultimately, it can be quite dangerous to have your mind somewhere else. 
We're predisposed to hold on to things, to remember what happened in the past and carry everything. And there's no way I would have retained my sanity through that period unless I had worked extremely hard at developing that ability to switch off and compartmentalise that time at home. 
So I shut it off and was able to focus clearly with my four cheeks smiling. Instead of tightening up I had some of the best years competing of my life.

What's next for you?
We're going to revolutionise the horse racing industry. At the minute, we are running a pilot here for retraining and resources for equine therapy. I'm opening up a new arm of the business called People for Horses. We're working with the Down Royal Corporation of Horse Breeders, UCD and University of Bristol on a three year PhD study and we're going to try to set up a structure to formulate best practice for taking retired racing horses and retrain them for this type of therapeutic work. So they get a second chance, and in turn, their second chance is helping people. 
I would love for the racing industry to put money aside for horses pensions so that they can be looked after at this stage in their life, that they don't just reach the end of their careers and are on the scrapheap.
Your talk's call to action was to smile with all four cheeks. Do you have a new message for people?

 
Regardless of what's happening in life, there's never a benefit to not smiling with all four cheeks. And so the more that you can let go of things, the more inspiration comes.
I have two other key phrases that we use quite often. The first one is 'go back to grazing'. The great thing about horses is that if something bad happens, they respond to the emergency and when the danger passes or the situation is no longer a problem, they put their heads down and go back to grazing. People rarely do that. We hold on to things and we tell everybody about it. We keep recounting it for weeks, months, years, even lifetimes.
And the other one is a result of watching how the horses interact and how good they are at dialling up assertiveness without becoming aggressive, and how great they are at setting really clear boundaries. I would tell people to 'be more horse'.
Find out more about Horses for People here: http://horsesforpeople.co.uk/